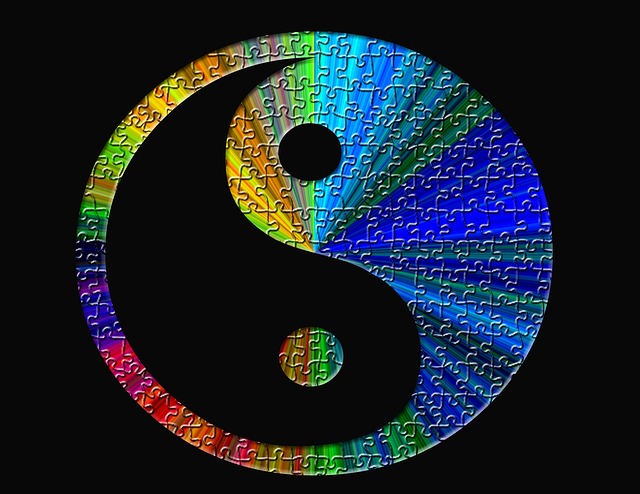 Life is the result of the struggle between dynamic opposites.

Form and chaos. Substance and oblivion. Light and dark.

All the infinite variations of yin and yang.

When the pendulum swings in favor of one, it eventually swings in favor of its opposite.

Thus, the balance of the universe is maintained.

– Jeru
How does the duality of life affect you?
Life is a kaleidoscope of variety.
Male and Female. Beast and Spirit. Night and Day. Hot and Cold.
Neither of these energies is "better" than its opposite.
Everything Has Its Equal Purpose
There are gradations in between extremes, but this does not negate the existence of separate polarities.
Some might ask, "where is the cut-off point?"
The answer to this question is extremely complex and difficult to answer.
Think about the spectrum of color.
Red is definitely red.
At what point does it become pink? Orange? Purple?
The spectrum itself is infinite. It's not so simple to categorize the in-betweens.
You are simultaneously your best friend and your worst enemy. It's your choice which side you channel.
Negative thought patterns/self-esteem will sabotage all your efforts at becoming an improved person.
It's Crucial To Control Your Emotions
Unstable emotions tend to bring out the more undesirable aspects of your personality. You're capable of greatness as well as committing unspeakable horrors.
Sometimes we allow ourselves to be overcome with self-loathing. Know that there's nothing wrong with you. The only thing that is wrong is your thought patterns and the negative actions that follow.
Learn to love the part of yourself that you have disdain for. Forgive your imperfections.
Strive To Understand The Dual Nature Of Your Inner Universe And The Flow Of Energy That Governs It
There's no such thing as a "double standard" for things that aren't the same. Women are not to be held to the same standards as men and vice versa. It seems as if our society is pushing male concepts of success onto women. The need to build things and act as the strong muscle of society is not innate to the nature of women.
It's still possible for women to achieve great success in masculine fields, but in order to do so they must become pseudo-men by losing a great portion (if not all) of their femininity. At the same time, men are encouraged to openly share weak emotions just like women.
Is it any surprise that women subsequently lose all attraction towards such a male?
Emasculated males allow their inner droplet of femininity to become dominant over their true polarity.
Opposite Polarities Harmonize To Become One
Sex is an example of such a connection. When the parts become whole, a new life is born.
Ultimately, there's no separation. Everything is an infinite singularity that manifests itself in a wide spectrum of energies.
Don't pollute your mind with negativity.
That which is opposite is a part of you. The people who you hate reflect parts of yourself that you don't like.
It's best to stay away from them instead of actively trying to bring them down. However, their existence is necessary.
Consciousness is exploring all its possibilities.
People have their different interests, lifestyles, goals, because they exist on different wavelengths. Appreciate what everyone has to offer, regardless of how different they may be from yourself.
The Value Each Person Brings To The World Won't Be Comprehended By Everyone Else
Some polarities don't harmonize well. It's better to focus on your own journey. Strive to be the best in your niche of choice.
Only listen to criticism from those who understand your vision.
Duality is an intrinsic part of our existence. Many people hate that which is not like them. Understand that without duality, you wouldn't be alive. In order to feel the highest highs, we must endure the lowest lows.
Men and women are both good and bad. There is not one gender ruining the world. We are all in this together. Life is bittersweet.
Enjoy the moment for what it is. – and then let it go.