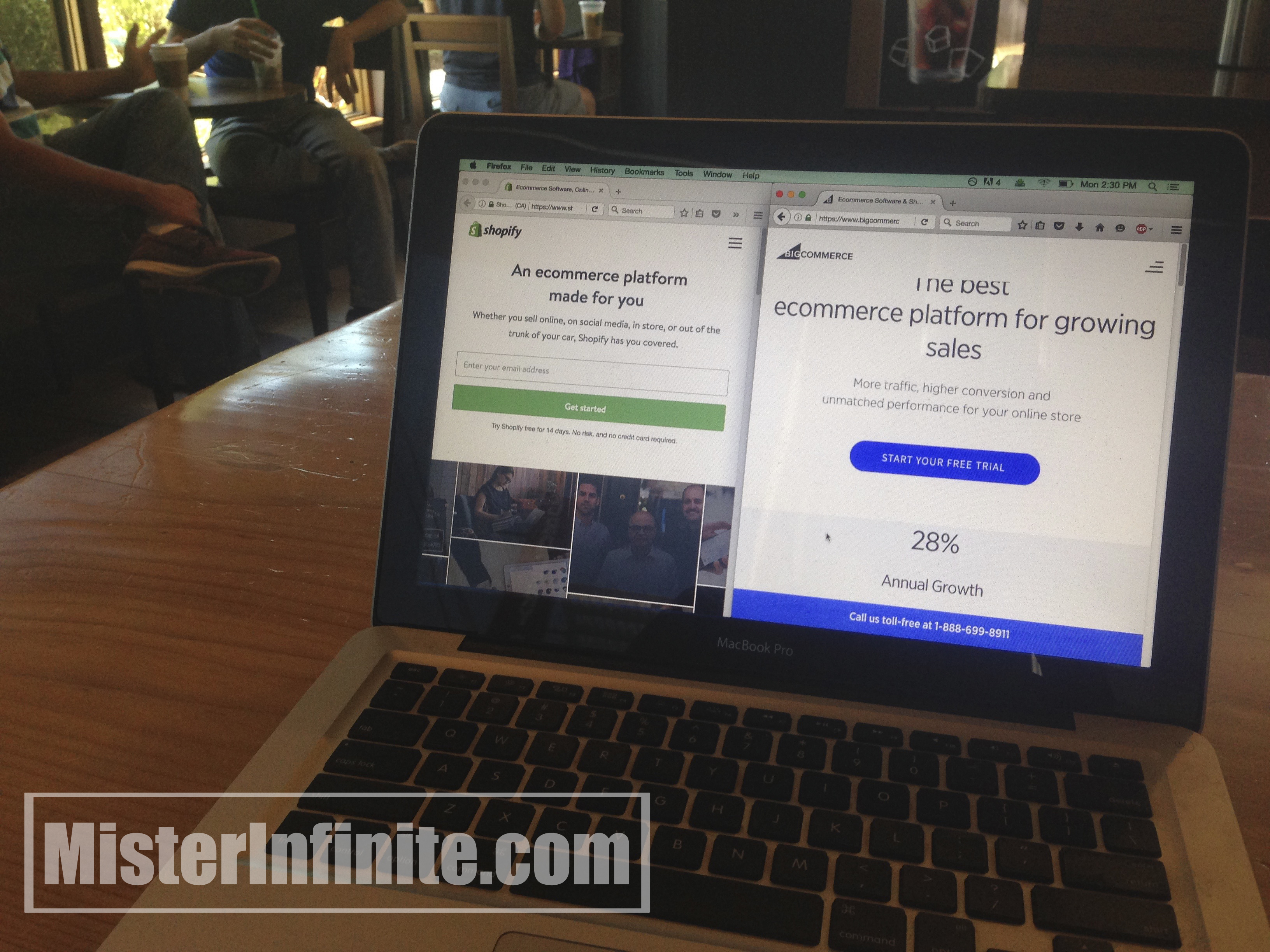 What's the best E-Commerce service?
There's no right or wrong answer. It all depends on what you're looking for. The main difference is between convenience and control.
I'm a small business owner concerned with efficiency. My store sells physical products, requires seamless function, and relies on great customer service.
When choosing an E-Commerce service, it's important to ask yourself these questions:
Does customization matter, or will layouts get the job done?
What do you value more: unlimited bandwidth, or inclusive hosting?
Is it better to accept every currency, or work with a higher variety of payment gateways?
This post will cover all these topics and more.
The Best E-Commerce Service Is Big Commerce
Want ultimate control over your online store? Big Commerce has everything you need. From the design to the hosting, everything stays within your hands.
The Biggest Benefits Of Big Commerce Are:
Complete customization, longer trial (15 days), open to any currency, and unlimited bandwidth.
Here's how it works.
Customization:
Big Commerce is a visionary's dream. Every last detail is completely in your control.  You don't have to worry about building off someone else's design. Simply write your own code and enjoy.
(The platform is HTML based with extensive use of CSS).
Hosting:
BigCommerce doesn't have inclusive hosting. This is a downside for those who aren't tech savvy. However, this could benefit you if you already have a hosting plan.
By linking to an existing domain, you can avoid spreading yourself thin.
Want to be responsible for your own server maintenance and security? Big Commerce steps aside to let you handle your business.
Processing:
There are 60+ payment gateways accepted by Big Commerce. While slightly lower than Shopify's 70 gateways, Big Commerce works with a wider variety of currencies. Doing lots of international business? This might be the better platform for you.
BigCommerce is the clear winner if you're looking for *control*. The service starts at $29.95 per month for unlimited products. With their free trial, you can try it for 15 days and see for yourself.
But here's another great idea.
The Best E-Commerce Service Is Shopify
Looking to outsource most of the back-end tasks? Shopify maintains the reliability of Big Commerce with a simpler approach.
I use it. My friends use it. We all love it.
The Biggest Benefits Of Shopify Are:
The huge variety of pre-made themes, decently long trial (14 days), large amount of payment gateways, and inclusive hosting.
Let's break it down.
Customization:
The extensive themes and add-ons handle everything you could possible want. When using a premium theme as your base, you can add elements of your own brand.
Even though Shopify gives you less creative control than Big Commerce, it comes pretty close.
Hosting:
The hosting is inclusive, meaning all the server maintenance and security features are in Shopify's hands. It's similar to any quality host company such as Blue Host or Hostgator. Do you lack expertise and want to outsource the work to professionals? Shopify will help you out.
Processing:
There are 70 payment gateways supported by Shopify. No matter if you're using Paypal, Strip, or Authorize, the process runs smooth like butter. However, the only downside is it's less flexible with international currencies.
Shopify is an attractive option if looking for *convenience*. At $29 per month for unlimited products I'd say that's a steal, wouldn't you?
Closing Thoughts
While free e-commerce platforms such as OpenCart exist, they lack important features such as data encryption, analytics, and customer profiles. They're great as "training wheels", yet hold you back from your max potential. And who would want that?
BigCommerce and Shopify are both the best e-commerce services. They're easy to integrate, customize, and are 100% reliable. You can't go wrong with either of them.
(Bonus Fact: E-Commerce generates about $1.5 million every 30 seconds)
Don't worry, neither of those e-commerce platforms have any hidden fees. They're both offered at a flat rate, so your bottom line stays high. I guarantee it.
This brings me to a courtesy I'd like to ask of you.
Will you try out one of these E-Commerce services for me – use it – notice its convenience, its fine function – see how it compares to services that retail for $135? And then write me?
Thank you for your courtesy.
Want to write better sales letters?
Check out "Swipe File Ammo".
It's full of 1400+ headlines, calls to action, power words, and transitions guaranteed to increase conversions, improve communication, command attention, and make more money.
Where else can you turn your keyboard into a money printing machine for $5.99?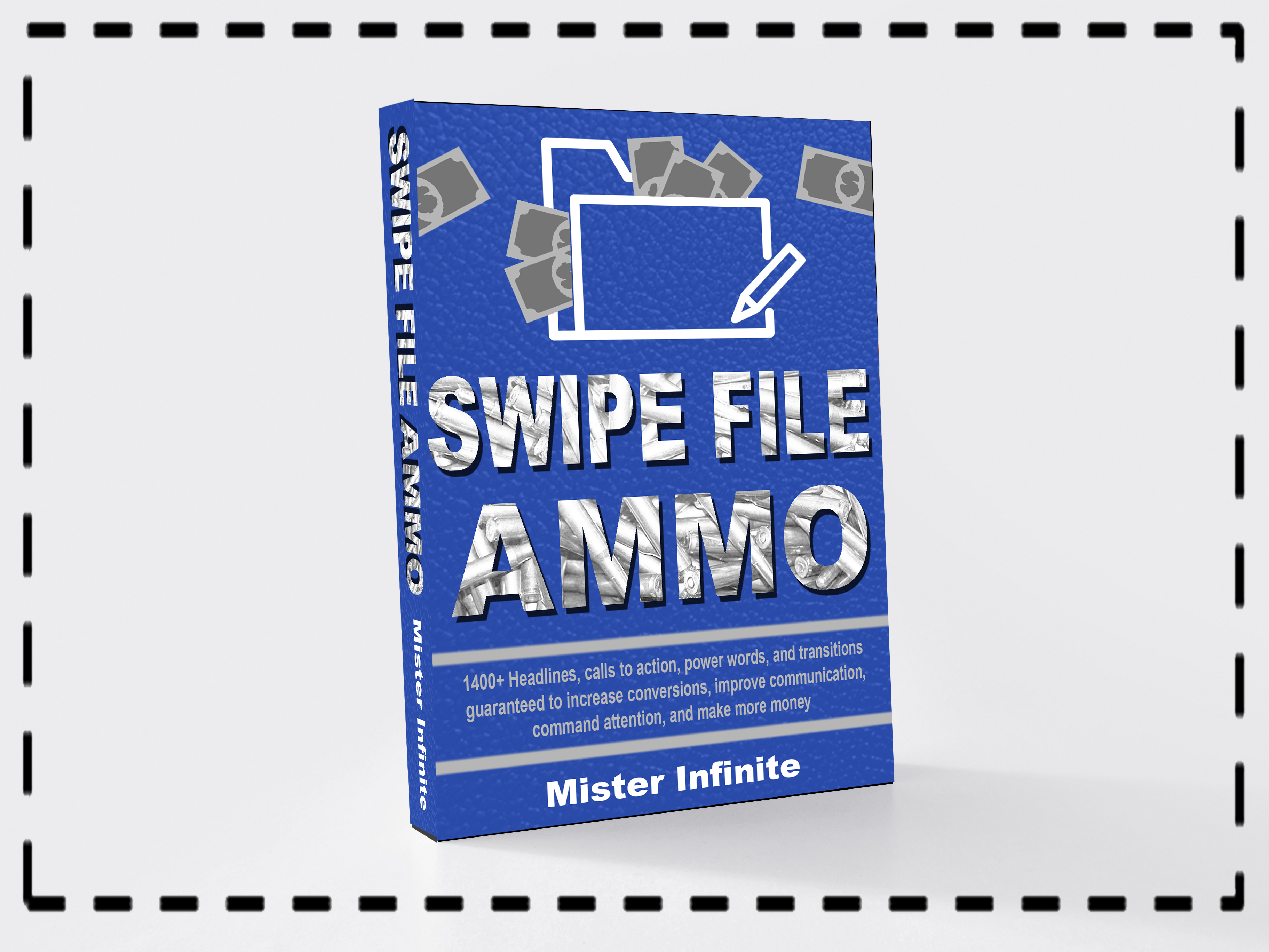 ---
P.S. This awesome course saves valuable time while making the process fun!
Which E-Commerce Service Do You Use And Recommend?