Ideas great for selling one product can be adapted to sell almost any other product.

-Robert Collier
What is the niche site project challenge?
The basic idea is to build small affiliate sites focused on a certain topic.
The challenge could be part-time, or it could be full time. It all depends how far you want to take it.
The honest truth is, every niche site is a life-long asset. It's a virtual salesperson working for you 24/7.
Even if you aren't serious about making big bucks online, you could invest a few hours into recommending products which have improved your own life. This could easily put some extra money into your pocket.
This post will save you the $9,000 many online biz "courses" run for. Even better, it could make you a handsome profit. When you finish reading, you'll have a clear understanding of what it takes to master your niche site project.
How does McDonald's tie into all this?
Let's find out.
Now You Can Use The McDonald's Biz Model
For Online Success
Here's a little background on McDonald's.
McDonald's was founded as a simple drive-through restaurant with assembly-line service. It was only when the first franchise was opened by businessman Ray Kroc that the company truly started to expand.
Why?
You see, Ray noticed how people on the road want a consistent experience (fast, clean, and quality). By taking this model and replicating it, he was able to create a multi-billion dollar company.
In other words, McDonald's USP (unique selling proposition) is its system. You can expect the same experience at every location.
An efficient system can serve as your USP.

— Mister Infinite (@mister_infinite) October 8, 2016
Here's how you can benefit.
How Can You Apply This Approach To Your
Niche Site Project?
One thing's for sure, a powerful framework can work wonders.
All you have to do is tweak it to your audience.
The hardest part of the whole challenge is building the system.
Knowing what questions to ask
How to present them (storytelling)
What visual style to use
When you break it down, you see it's actually quite simple. Once you have the structure, your efficiency shoots through the roof. You can easily replicate the format over and over again.
Don't know what field to choose?
Many people use "over-saturated markets" as an excuse to avoid getting started. However, when you have a killer USP (system), you're in a league of your own. Why wouldn't an engaging system be able to snag a few leads?
Let's look at VOLUME.
How Many Posts Does A Niche Site Need?
It depends.
Good Looking Loser's site "Hair Loss From Steroids" only has 5 pages. However, the reason he gets away with it is because it's a very specific niche.
You see, search engines index your site differently once you hit 15-20 pages. Some hit their stride at 50 pages. Most max out at 100.
The bottom line is: post # varies by niche.
A better question to ask is, "have I addressed all the prospect's concerns?"
The purpose of a niche site is to *inform* (link relevant articles, suggest new applications, etc). Otherwise, the prospect could buy straight from the vendor.
It's important to give people a *reason* to visit your site. And what better way to do so than providing engaging stories?
But I didn't stop there.
Here's How To Set It Up
Setting it up is surprisingly easy.
With 1-click wordpress install from Bluehost, you can save yourself from endless stress. This gives you more energy to share your ideas.
And here's the most important part.
Building a niche site around a $20 Amazon affiliate product is a complete waste of time. If you're promoting Amazon products, it's essential you go with higher-ticket items. Otherwise, you're better off signing up for Flex Offers or Share-A-Sale.
(The programs are FREE.)
This simple change could be the difference between online success and failure.
If that doesn't get you excited, then you should stop reading now.
These Hidden Benefits Of Your Niche Site Project
Will Blow Your Mind
Fortunately for you, the niche site project comes with hidden benefits.
Here's a brief illustration of the point.
When advertising legend David Ogilvy got started in the game, his rookie years taught him about *buyer psychology*. He used these early lessons to build a billion dollar empire.
If you're looking to create a business in the future, the niche site project could give you the skills and experience you need.
But there's more.
As you know, rich people don't make money off *income*. They make money off *assets* (in their sleep).
"Create a $10,000 a year additional income stream, that's equivalent to owning a $400,000 asset that yields 2.5%." – https://t.co/9JRMCOM6Z7

— Thirty Days To X (@XDays) May 15, 2016
Building niche sites is a fantastic way to add more assets to your portfolio while forcing you to become more efficient.
Lots of people think spending more = faster/better results. However, this couldn't be further from the truth. Just look at the ones spending $17,000 on sketchy web design projects.

(These Methods = Consistent Growth)
One of the main principles of "No BS Direct Marketing" is low cost brand building. With niche sites, you can make a 500%+ return-on-investment with a single sale. Can't do that with a brick and mortar store can you? (multiple six figure start-up cost).
Some focus on 4-5 larger sites ($10,000-$20,000 yearly income per site), others aim for 28 smaller ones ($3,000-$10,000 yearly income per site).
The basic idea is to do whatever works best for you.
Closing Thoughts
There you have it.
This post could earn you more than $100,000 (but only if you put the principles into action).
Want to overcome automation and/or be location independent? The niche site challenge could be the solution you're looking for.
Even if don't want to make it a full-time job, building niche sites is a great way to expand your bottom line and increase your efficiency.
Want to write more effective sales letters?
Check out "Swipe File Ammo".
It's full of 1400+ headlines, calls to action, power words, and transitions guaranteed to increase conversions, improve communication, command attention, and make more money.
Where else can you turn your keyboard into a money printing machine for $5.99?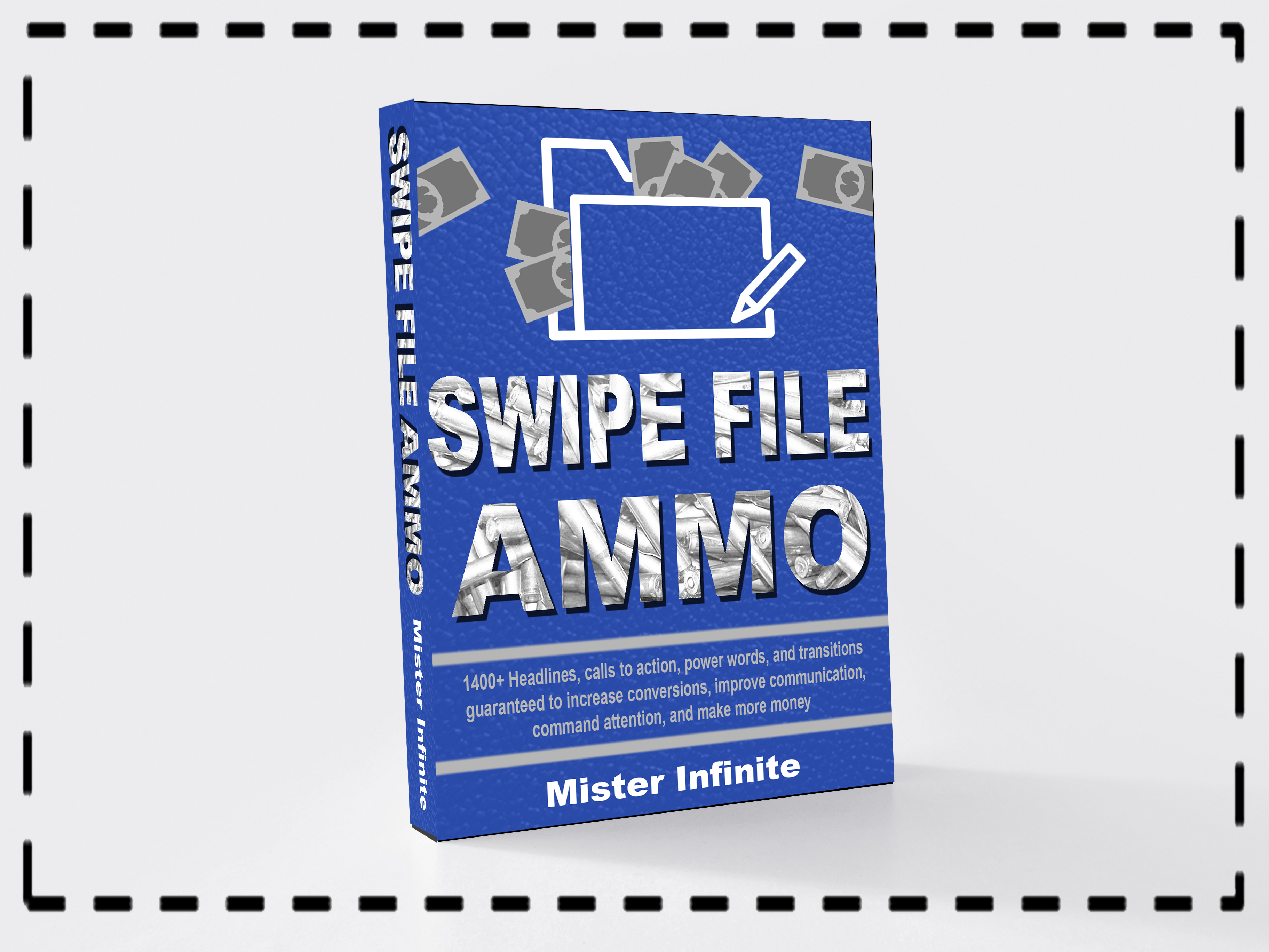 ---
Invest in some niche sites with Blue Host today! FREE domain with 1-click wordpress install.
Consider grabbing a premium theme while you're at it. As you know, people judge websites by their appearance. Might as well have a beautiful one.