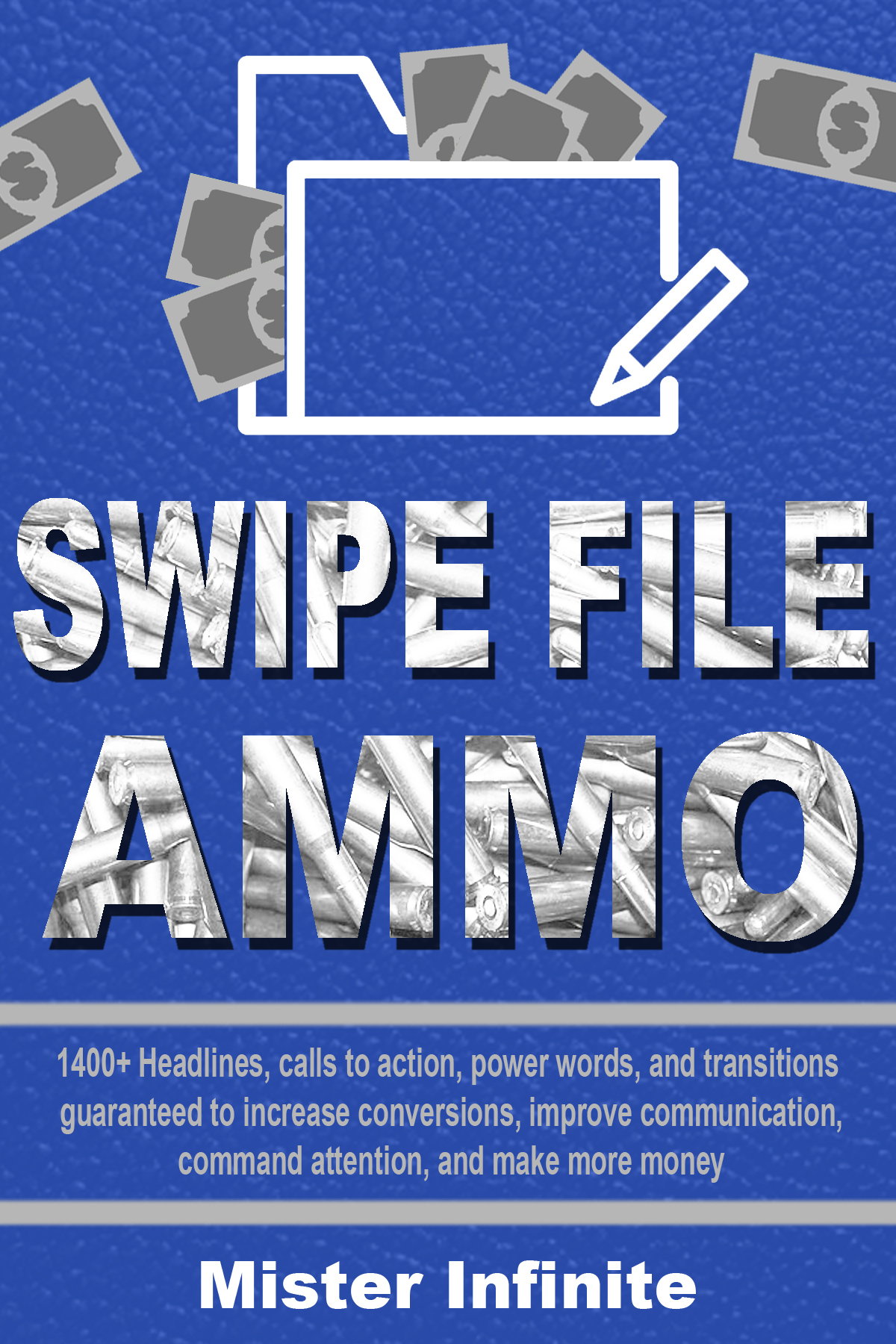 Did you know 75%+ of sales are decided by headline alone?
It's true!
Your money's already out there, all you have to do is give the right *presentation* to attract it.
It just so happens I've packaged all the headlines you need to plant massive trees of value.
If you really wanted to, you could use this info to turn a profit TODAY.
Sound too good to be true? Keep reading.
Why It's A Great Idea To Keep A Quality Swipe File
You see, the most important aspect of work is *pre-work* a.k.a. research.
A swipe file is simply a collection of ideas proven to work.
When you have quality formulas ready to go, you can spend more time on market research and innovation.
After all, what good are your findings if you don't know how to present them in an effective way?
That's why I took everything I learned during 4 years of copywriting and created Swipe File Ammo.
Swipe File Ammo distills the essential sales structure of 70+ top business books into one clean package.
All you have to do is plug your market info into these powerfully persuasive frameworks.
What This Book Offers You
Here are a few things you'll get from reading "Swipe File Ammo".
Calls to action
Closers
Headlines
Power words
Title words
Transitions
And those are just the basics. You'll also stimulate TONS of new ideas for cross-market applications, product development, and unaddressed niches.
This book hands you the sales dynamite, saving you time and energy better spent developing your income streams. Instead of wasting countless hours worrying about HOW to sell, you can focus on WHAT your prospect needs.
How These Formulas Helped Me

(Most people average a 2-3% conversion rate)
When I first started working online, I was completely lost.
Sales "experts" populated a vast ocean of bad information, false promises, and tired clichés.
After much trial and error, I sifted through the noise to craft a reliable framework.
This framework has allowed me to:
In other words, they increase your resilience.
Look at what it's done for others:
Shout-out to @mister_infinite.
This is some straight forward shit.
No beating around the bush.https://t.co/G3y8SMsokS

— Maharaja (@themaharajj) September 27, 2017
You know, of course, the cost of the book is extremely low compared to what you get.
When you choose to invest in a copy, I'm giving you a chance to make more money and improve your life. These handy guidelines will save you TONS of time. I personally refer to this book every single day.
Enjoy!
-M.I.