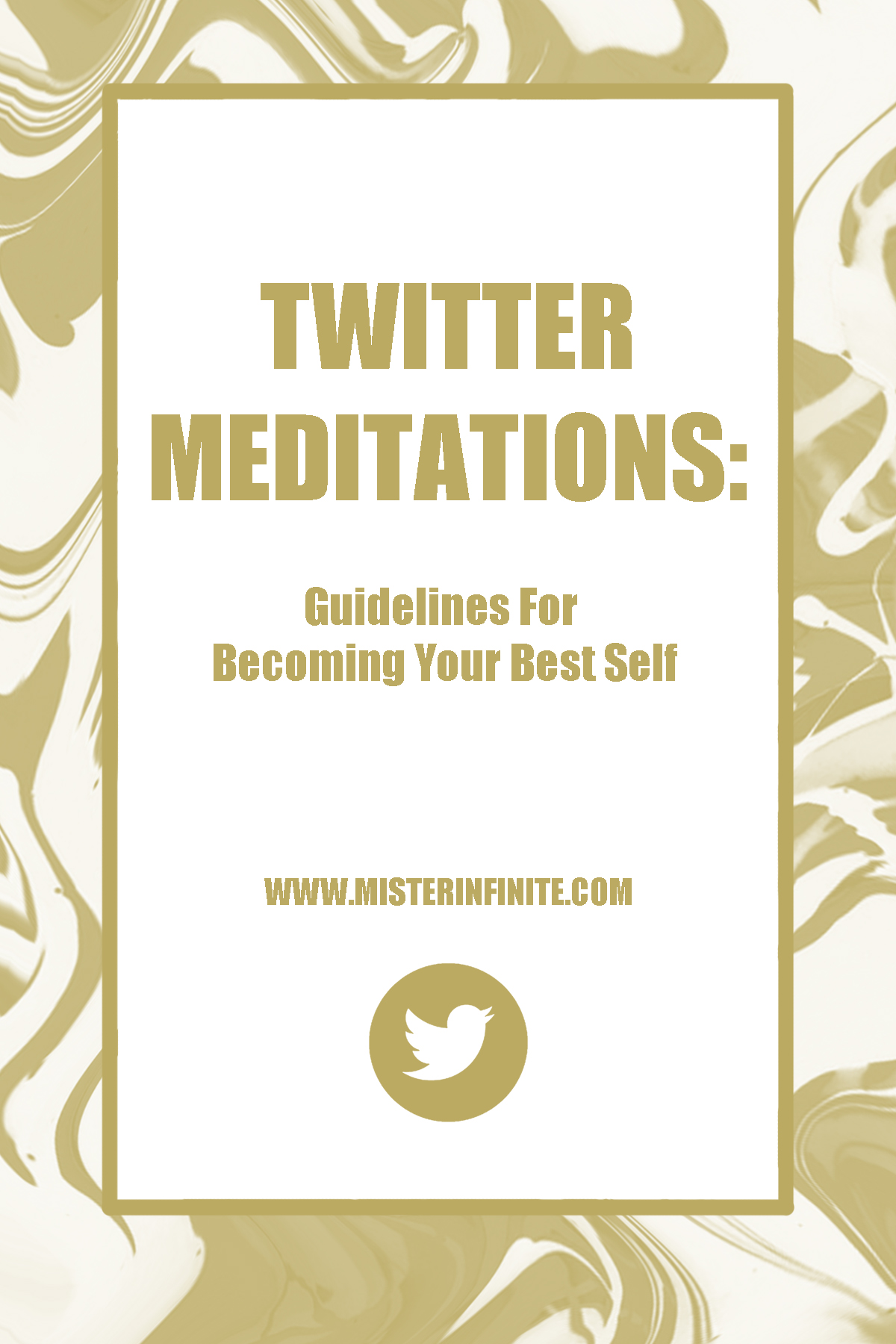 Before twitter existed, ancient philosophers kept compilations of bite-sized maxims.
One such compilation is the book "Meditations" by Marcus Aurelius.
These timeless musings read like a series of tweets.
Short, dense, impactful maxims crafted to help you live a better life.
(Saving *time* while providing clear mental models for decision making).
I've shared lots of info over the years (via twitter) which took me from a disorganized party animal into a value-focused businessman.
Now, these tweets have been compiled into one neat package.
"Twitter Meditations" is a handy reference guide that saturates your mind with snack-able info.
Why Wisdom Matters
Many people aggressively chase money only to find themselves in golden handcuffs.
(Dependent on status with ZERO passive income).
Wealthy people chase WISDOM.
Wisdom helps you attain the wealth you're looking to attract by enriching every single pillar of life.
That's where these tweets come in.
Every tweet is a unique angle which adds to a powerful synthesis of understanding.
While your "competition" is worried about irrelevant info, you'll be focused on the essentials.
(Hitting the right spot over and over and over again.)
Don't get left in the dust!
What This Book Offers You
"Twitter Meditations" addresses all the key aspects of life.
It's split into 14 topics:
Self-development
Spirituality
Efficiency
Marketing
Business
Mindset
Reading
Society
People
Wealth
Habits
Health
Sales
Game
All power/success in life rests on PRINCIPLES.
Principles and mental models mirror one another.
"Twitter Meditations" communicates these principles through a dense set of mental models (a.k.a. tweets).
As you know, Twitter's character limit forces you to convey max info across minimum space. This saves tons of *time* while simultaneously opening your mind.
Forget those pop psychology books that take hundreds of pages to make a single wishy washy point. Short maxims are easy to remember and help eliminate procrastination.
Look at what others are saying: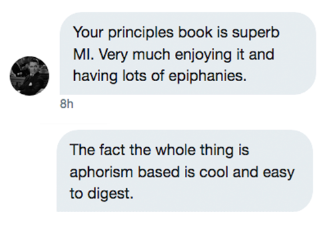 You see, the simpler your decision making the better.
When you keep these heuristics in the back of your mind, you drastically improve your chances of winning. By investing in a copy of this book, you're essentially downloading cheat codes for life into your brain.
This will help you to keep evolving while others drown in stagnation.
How This Wisdom Helped Me

(Want to wake up to daily notifications like this from each of your many income streams?)
6 years ago, several events burned my reality to the ground.
It all started with my girlfriend dumping me.
Shortly thereafter, childhood friends committed suicide, family members passed away, mainstream social groups shunned me, and I couldn't find reliable work.
I found myself living in an underworld haze of nihilism, surrounded by low-lives and drinking heavily.
The delusional feel-good world I had grown up in ceased to exist. My mental map had encountered a serious mismatch with external reality and made me step on a nuclear bomb.
I knew I couldn't go on living like that, but where to start? I had to find a higher-value approach.
Many people never manage grow out of the anger phase of such intense transformations, and I didn't want to be like them.
Slowly but surely, I started writing to make sense of things. Even though I didn't realize it at the time, I was subconsciously crafting a philosophical base for a greater life.
As I developed better habits and dropped dead weight, I went from sleeping in my car, to sleeping on a couch at a video editing studio, to living in a ratchet apartment, to running my own online business.
High-value mentors started to cross my path and the improvements kept compounding.
Those who turned their backs on me wish to join my kingdom, but the doors are closed.
I live life on my own terms now, and so can you.
If the wisdom in these tweets helped me build a solid business structure, improve my health/fitness, skyrocket my income, attract better women + friends, and avoid society's traps, then imagine what it will do for you.
Enjoy!
-M.I.
Get the keys to the castle here: