Are you looking to:
Gain location independence + travel when you want?
Make authentic high-value relationships?
Earn money on your own terms?
All these possibilities can be YOURS when you start your own website.
If you're like me, you hate having a boss. You hate commutes. And you hate having a company dictate a ceiling to your income.
It's not that you *can't* work in a corporate team environment. In fact, you often excel at it. What you really want is to be on your own time.
In other words, what you're looking for is: Personal ownership.
Thankfully, the internet allows you to scale your value, use your time effectively across multiple channels, and attract similar-minded people.
It enables you to build your biz core asset base.
(Your personal brand, contact list, and platform).
This is your base of influence.
A.k.a. your real estate in the digital world.
Without this base, your audience can be taken from you.
That's why starting your own website is so valuable.
Take a look at what starting a website has done for others.
These people make $1,000,000+ from their websites. And that's not to mention all the other opportunities an online platform attracts.
Instead of making money by the hour, you can do the work once and have it last forever!
A website provides value while you sleep, so you can make money without clocking in.
A website builds on itself, so you can attain a greater income than you ever dreamed of.
A website brings you into contact with amazing people, so you can build the social circle of your dreams.
Now, while it would be impossible to show you ALL the benefits to owning your own website, I want to show you some of the things you'll experience as soon as you're on the other side.
People will invite you to events, they'll send you relevant products/services, and they'll also contact you with unique ideas.
Plus, you'll get a FREE domain, FREE site-builders, 1-click WordPress install, and 24/7 support.
Let's get real. Everyone has a personal brand whether they have a website or not.
Owning an online platform allows YOU to control the dialogue about your brand. This in and of itself is phenomenally valuable.
A website can be seen by millions, is infinitely scalable, and you have 100% control over it.
The upside on this is unlimited.
A website = instant credibility.
A website is an operational business 24/7.
A website exposes you to potential collaboration and team building.
It can serve as both record and resume of who you are, what you've done, and what kind of value you offer.
This helps attract clients and projects.
Your website is an access point for your potential audience.
It removes the barriers to entry for people looking for you. And as you know, your audience must have the option for direct access.
Your story, work, passions, and creativity may resonate with millions, but without an online presence, your reach is minimized.
The total value of all this is worth more than a million dollars because that's exactly the kind of impact this package offers to your network, net-worth, and peace of mind.
If all this did was give you the social network of your dreams, would it be worth it?
If all this did was help you make another stream of income, would it be worth it?
If all this did was let you fire your boss, would it be worth it?
But it gets even better.
Bluehost isn't going to charge you a million dollars.
They're going to charge $3.95 a month.
They take on all the risk by offering you their FANTASTIC 30-day money back guarantee.
There's absolutely no obligation to you for an entire month.
But you must act now before life passes you by.
Just imagine what life will be like when you don't have to answer to anyone, can set your own schedule, watch your money multiply, share a public portfolio, and build amazing friendships from all over the world.
So click on the button below right now, and you'll be taken to a secure order form. After you put in your info, you'll be taken to a secure member's area where you can start your website, no matter what time it is or where in the world you are!

For those who are already signing up, here's what's going to happen next.
Step 1. Choose Your Plan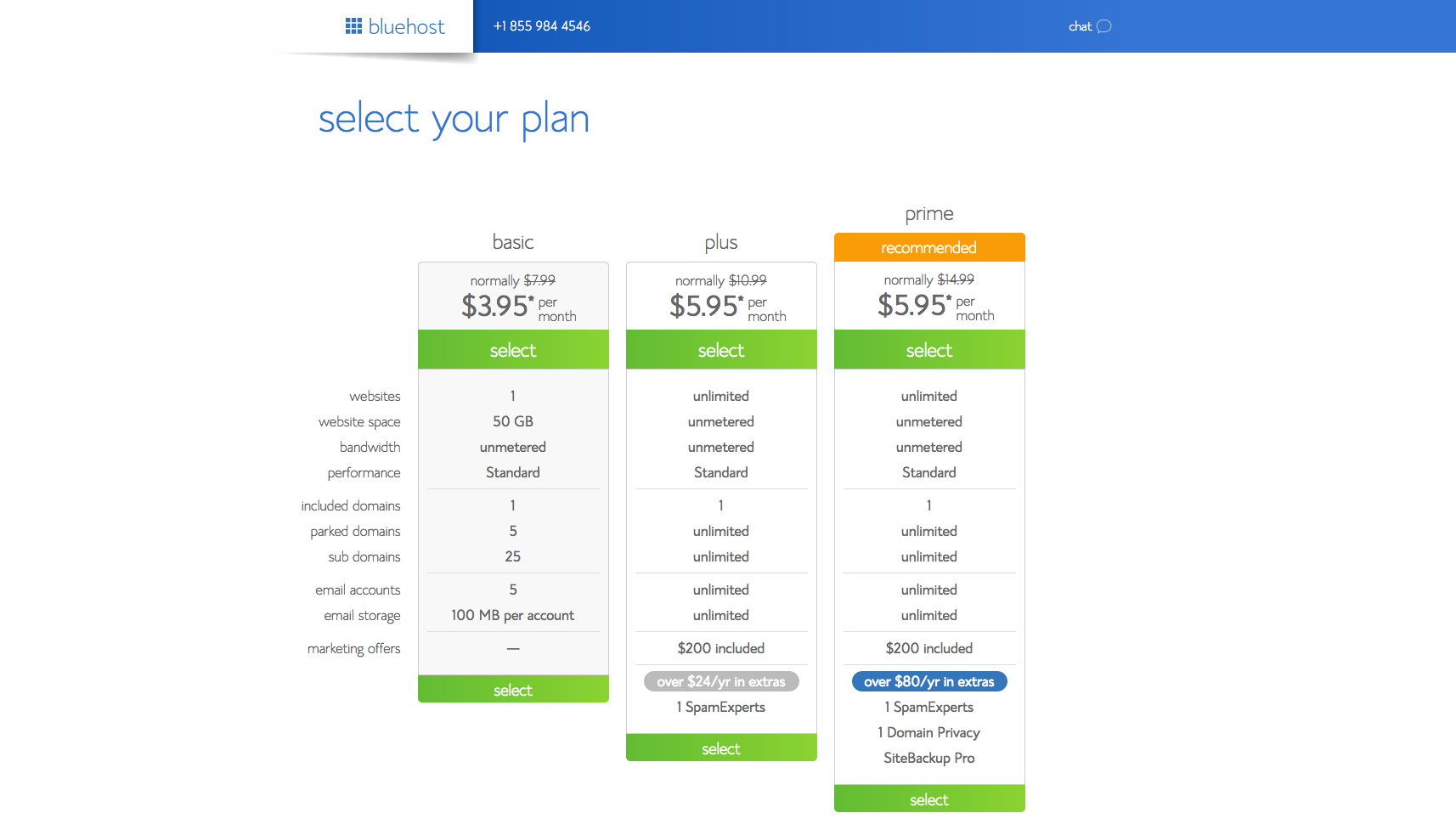 Step 2. Choose Your Domain Name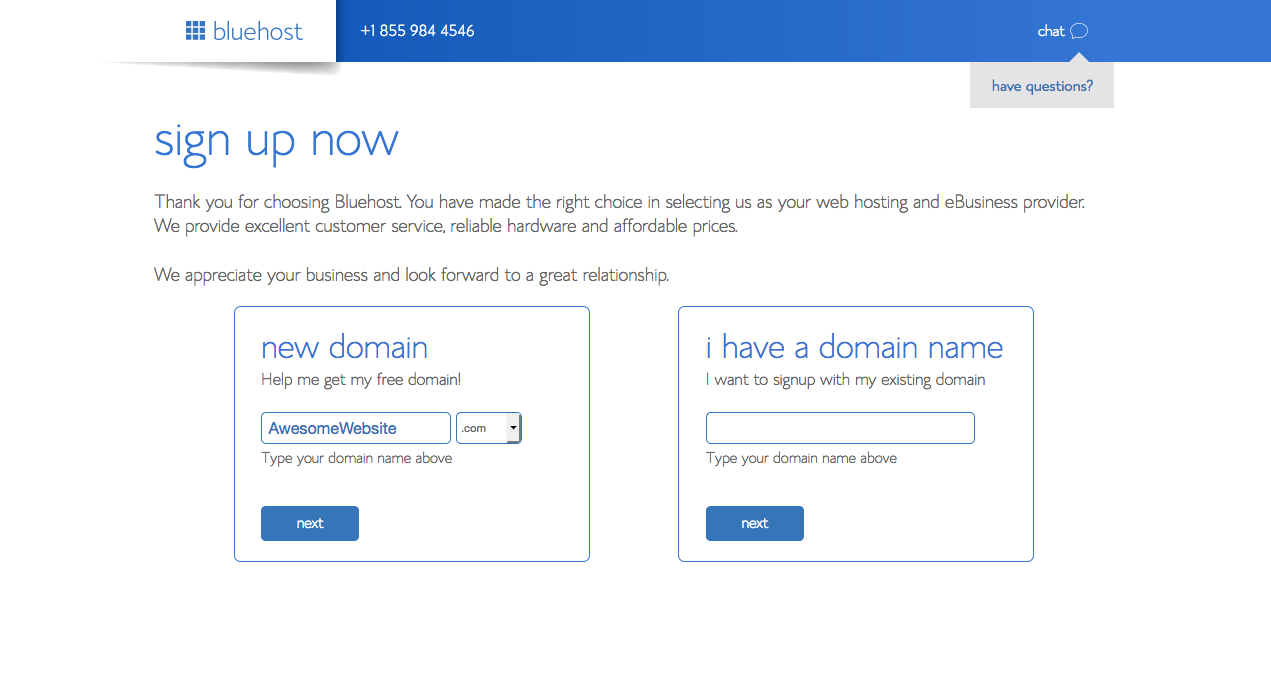 Step 3. Confirm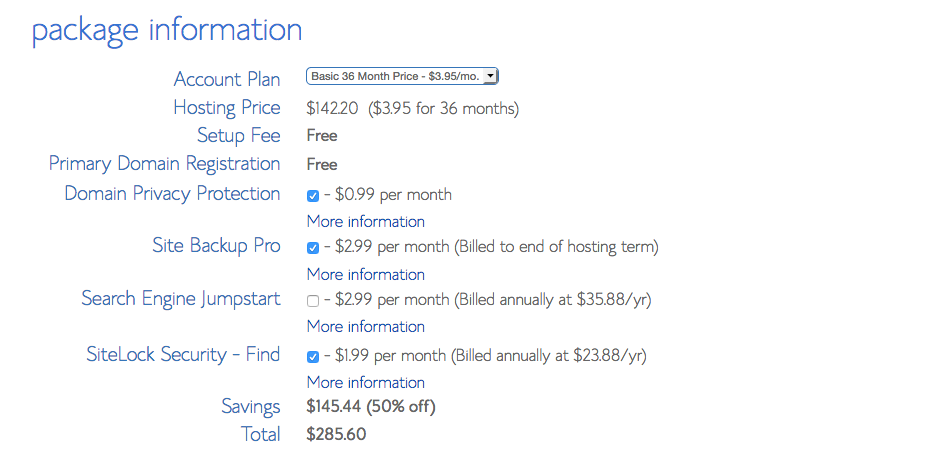 Simply grab your website and install with 1-click wordpress.
As you've realized, it doesn't matter to me if you sign up right now or not.
I'm still going to be going about my daily business and hitting my goals with absolute certainty – whether you'd like to do the same or not.
However, without this investment, you'll always be limited by the problems we discussed at the beginning of this letter.
I know it sounds kind of harsh, but I think you'll agree that it's true.
Remember,
You get $3.95 monthly web hosting, FREE domain, a FREE website builder, and 1-click wordpress install.
(Not to mention, a platform for personal ownership!)
That's all there is to it!
As you know, rich people don't make money off *income*, they make money off of *assets*.
The best way to do so is to start a website.
You can start an authority site, or you could start several niche sites (or both!)
P.S. Invest in your future with Blue Host today! FREE domain with 1-click wordpress install.
Consider grabbing a premium theme while you're at it. As you know, people judge websites by their appearance. Might as well have a beautiful one.